Steve Madrone:
I'm running for re-election to continue working for a vibrant, safe and healthy community that benefits all of us.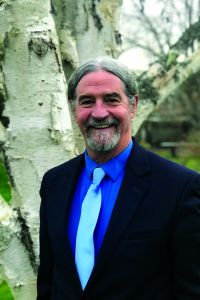 As your Supervisor, I've helped raise salaries for deputies and county employees to increase public safety and services. I voted for programs to help alleviate homelessness. I found funds to help our fire districts, and brought resources to help residents address code violations and dangerous road conditions.
My priorities for the next term include more affordable housing, a balanced budget and protecting our rivers, steams and watersheds. And I'll follow through on efforts to create a town center in McKinleyville.
There are several large projects coming to Humboldt which could bring positive outcomes. I will ensure they receive thorough public review, hire local workers, pay union rates and conserve our natural resources. 
I signed the 'Climate Pledge' and will consider our climate in all my actions and votes, from increasing public transit and installing solar to adapting to sea level rise, drought and fires.
I have worked for these values my entire life starting as an Eagle Scout. Now that I'm a grandfather, I'm even more committed to achieving them.
Larry Doss:
After thousands of conversations with residents of the Great 5th District,  Here are the top 10 issues that I have heard and are prepared to address once elected:   1)  Public Safety - People want to feel safe in their community   2)  Attention to Roads  3)  Attention to Trails  4)  Affordable Housing  5)  Housing Insecurity Solutions   6)  Environmental - Attention and Protections for R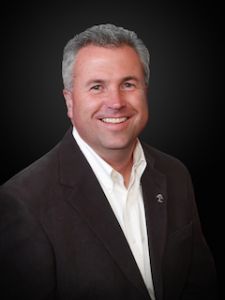 ivers, Lakes, Lagoons & Beaches  6a)  Environmental -  Climate Change / Sea Level Rise  7)  Communication with and from Supervisor  8)  Private Property Rights  9)  Living Wage Careers  10)  Government Efficiencies. 27 years of local business ownership and 14 years of elected public service and 45 years of local volunteerism. It is always good to know who a candidate is endorsed by,  Larry has endorsements from 3 of the 5 current Supervisors - Rex Bohn, Michelle Bushnell, Virginia Bass & Sheriff William Honsal & former 5th District Supervisor Ryan Sundberg &  former 5th District Supervisor Anna Sparks & former Sheriff Mike Downey, The Humboldt Association of Realtors & hundreds of residents across the 5th District & all of Humboldt.

Stacey Eads
Stacey Eads has over 20 years of experience that includes prosecuting nearly every type of criminal case, running the Sexual Assault & Child Abuse Crimes prosecution team, and most recently performing supervisory and administrative duties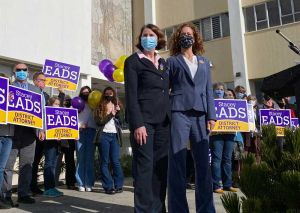 as the Assistant District Attorney while handling many of the most serious cases. Stacey is committed to promoting the safety and well-being of everyone in Humboldt County by fairly and equally prosecuting crime, while working collaboratively with others in the justice system to creatively address crime and the mental health crisis our community faces.
In 2001, Stacey returned home to Humboldt after law school and began serving as a Deputy District Attorney. After a year of prosecuting general misdemeanor crimes, Stacey became the Juvenile Justice prosecutor. During her 10+ years of work in Juvenile Justice, among other crimes she prosecuted: assault & battery, residential burglary, domestic violence, sexual assault, child molestation, assault with a deadly weapon and murder. In Juvenile Justice, Stacey gained valuable experience in supporting victims and promoting public safety, advocating for fair, consistent measures of accountability, and seeking the best ways to help offenders change their behavior.
In 2015, Stacey transitioned from prosecuting juvenile offenders to general felonies, and after a year she joined the Sexual Assault & Child Abuse Crimes prosecution team, which she now leads. Stacey's career protecting the community from the most serious and violent offenders is well demonstrated by recent courtroom successes, such as keeping sexually violent predator Joshua Cooley at Coalinga State Hospital and off our streets, and the following child molest, rape and sexually violent predator trials resulting in favorable verdicts:
People vs. Seng Yang
People vs. Cory Fisher
People vs. Mario Alexander
People vs. Michael Flowers
People vs. Richard Stobaugh
People vs. Scott Eden
People vs. Everett Spillard
People vs. David Boardman
People vs. Barry Sanford
People vs. Brandon Bemis
As Assistant District Attorney to District Attorney Fleming, Stacey assists with administering the ongoing activities of the District Attorney's office, the largest law office in Humboldt County. Stacey works on budget, policy and procedure issues, as well as recruitment and retention of qualified attorneys. Stacey strives to promote a productive, diverse and supportive work environment.
Adrian Kamada
Adrian Kamada is a product of Humboldt County.  He is a graduate of Arcata High School and Humboldt State University, where he earned a BA in Political Science with a minor in Environmental Science and Ethics.
Adrian had the opportunity to live beyond the redwood curtain,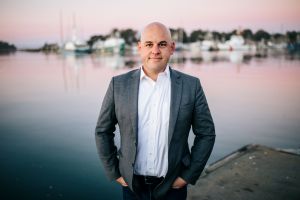 studied at the Richardson School of Law at the University of Hawaii, and graduated from Golden Gate University School of Law.  After graduation, he returned with his wife, Amy Hunt, who is also an attorney and a Humboldt County local. They have a young son and another child due this fall.  Adrian knew he was lucky to have grown up here, in a place of epic scenic beauty with a unique community. He felt a calling towards public service, towards protecting this place that he loves.
In 2014 Adrian became a Humboldt County Deputy District Attorney.  Within a year he had become the lead prosecutor for all felony cannabis cultivation cases, environmental crime, life-threatening drug labs, and cases of arson. By his third year in the office, Adrian began prosecuting homicide cases.  In his very first homicide trial, he secured a second-degree murder conviction in a case many speculated would end with a manslaughter conviction.  His second homicide trial was of Zachary Harrison, who had brazenly and famously eluded law enforcement for eight months after killing Robert Holtsclaw.  This resulted in a conviction for first-degree murder, with Harrison ineligible for parole until he is 79 years old.  The most satisfying part of these cases was in helping the families of the victims reach a sense of closure knowing that justice had been served.
By 2018 Adrian was also advising the Humboldt County Drug Task Force on the intricacies of search and seizure law.  He knew that having a clearly articulated search warrant provides the foundation for thorough investigations, saving court time and the People's money by avoiding endless procedural challenges and motions.  He prosecuted cannabis cases involving egregious environmental pollution, water diversions, money laundering, and firearms offenses.  In recognition of his work, he was nominated for the California Narcotics Officers Association  Prosecutor of the Year award. 
Also in 2018, Adrian was named the 2017 Wildlife Prosecutor of the Year by the California Fish and Game Commission.  The Commission cited Adrian's work in prosecuting Shawn Hof Jr., who was sentenced to 20 years in prison after repeatedly shooting at a Game Warden from a moving vehicle.  They also cited his innovative thinking in a case involving Dudleya, a rare coastal succulent plant.  Three foreign nationals were convicted of conspiracy and other charges for harvesting huge amounts of the plant and exporting it to Korea and China.  The complicated case involved Fish and Wildlife, U.S. Customs and Border Protection, and U.S. Postal Service inspectors, and resulted in the three guilty parties being deported and prohibited from re-entering the United States without the approval of the court.  The case garnered national attention.
In 2020 Adrian transitioned to the Public Defenders office, immediately assuming a felony caseload.  In doing so he got an invaluable look at the criminal justice system from a different perspective.  Friends and co-workers from within the justice system and the community urged him to run for District Attorney, to introduce fresh and innovative ways of doing things, to lead the office by fostering a culture of respect, to trust the incredible staff to do their jobs and do them well, and to usher in an era of an office transparent to its employers, the people of Humboldt County.  
Juan Pablo-Cervantes

From an early age, my parents taught me the importance and sanctity of the democratic process. I remember the day that my mother gained her citizenship and the magnitude that citizenship had on her life. She's yet to miss a single election.

These values translated to a life-long commitment to fair and functional democratic processes. For 20+ years, I  served as a poll worker. As the President of CalPoly's Associated Student Board, I organized university-wide campaigns to register students to vote, coordinated lobbying trips to the capitol, advocated for legislation to improve transparency, and advocated alongside the student and faculty union to improve working conditions. 

After graduating, I partnered with Access Humboldt to provide training to District Boards to increase public access to their services, served as a Union Steward for AFSCME, volunteered with Centro del Pueblo to improve the accessibility of their website, and have lent my support to several other community organizations near and dear to my heart.

My work at the County started at DHHS, where I had the privilege to work with our community's most vulnerable populations through connecting  them to resources so their basic needs could be met. Many of those marginalized communities are also left out of our democratic processes. Transitioning from DHHS to the Elections Office has allowed me to combine my passion for democracy and equity for all Humboldt County communities into one.

This passion is matched by expertise. Since joining the Elections Office, I've played a key role in expanding voter security and combating election misinformation. I completed  a major overhaul of the Elections Office voter information and candidate guides to make the process more accessible and transparent. I now develop and deliver trainings to our poll workers, one of my favorite parts of my job as the Elections Manager. 

Our last 3-years of challenging elections highlight the need for an experienced Clerk, Recorder, and Registrar of Voters. Working as an Elections Official under our current Registrar, Kelly Sanders, I played a key role in preparing us for a challenging recall election process and pivoting our elections system to adjust to COVID safety mandates so that your vote could be heard during the 2020 election. I am the only candidate with elections administration experience and humbly ask for your vote come election day.

Tiffany Nielsen

I am Tiffany Hunt Nielsen and I am running for Humboldt County Clerk/Recorder & Registrar of Voters. I have over 20 years of experience working with real estate documents, at Humboldt Land Title Company and within my current position as a Senior Recorder with the county.

I've also worked in the elections office and have first-hand experience checking ballots for clarity.

The focus of my office must be to meet the needs of those living here in a fair and impartial manner. Under my supervision and guidance, each election will be conducted with integrity, in a uniform, consistent and accessible manner.  One of my goals will be to improve customer services or Public Service in both of our offices.

Kim Bergel 
Mike Newman
Natalie Arroyo

Karen Paz-Dominguez (incumbent)
Cheryl Dillingham