Give Back for Back-to-School
The Humboldt Association of Realtors is conducting a couple fundraisers this summer in advance of the 2023-2024 Back to School Season. We hope that you will help our committees in their efforts to provide essential Back-to-School resources for Humboldt County students.
HAR Cares for Youth Committee - Back Pack Drive
The HAR Cares for Youth committee's mission is to engage with and support youth in our community by conducting outreach activities and fundraising to provide health, safety, and educational resources. Our goal is to serve individuals and supportive organizations in Humboldt County through knowledge, compassion, and empowerment to assist youth in reaching their full potential.
The HAR Cares for Youth Committee fundraises each year to provide back packs and essential school supplies for youth ages 0-18 who are unable to obtain these resources themselves. Each year, our organization aims to donate at least 200+ backpacks in our local community. A $5.00 donation is all that is needed to provide educational resources for a child in need. We hope you will help us!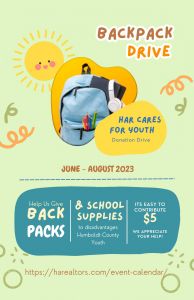 HAR Scholarship Committee - Non Event Fundraiser
The Humboldt Association of Realtors® has offered scholarships since 2000 to students going on to obtain higher education. Obtaining a higher level education is rewarding but it can be a tough financial decision. The Humboldt Association of Realtors would like to help relieve local students of part of the financial burden associated with a college      experience. The committee also works to provide financial assistance to Realtors and Appraisers that have completed their licensure course work and licensee examinations.
Eighty scholarships have been awarded since 2002.
Thirty two Realtor / Appraiser grants have been awarded since 2014.
Help our local students receive the gift of education by participating in our non-event fundraiser. We ask that you consider donating to this fund in $10 increments. Any donation helps!